Rural reflections on the Covid pandemic
It is now over a year since the first lockdown in March 2020 and the Covid pandemic has affected all of our lives in so many different ways. As I am writing this, the UK is moving tentatively out of restrictions and people are making plans to see family and friends again and contemplate small gatherings once more.
This has largely been made possible through the development and rollout of vaccines to train our immune systems to fight the virus, reduce transmission and prevent serious disease.  Most of my research career has involved the study of infectious diseases and the development of solutions to prevent and control a wide range of different pathogens that cause disease in livestock. Many of the farmers we work with are very familiar with biosecurity, testing and diagnostics, quarantine and vaccination and are used to dealing with diseases at a population level when managing the health and welfare of their livestock. Although, this time they had to apply the same principles to themselves to join with the rest of the population in dealing with a rapidly moving global pandemic. Some of the farmers have also mentioned parallels with the Foot and Mouth disease outbreak that occurred in 2001, where they had felt very isolated and worried about disease outbreaks on their farms.
The Covid pandemic has also reminded people of the importance of scientific research to help us to understand pathogens and how they emerge are transmitted and cause disease. Our work with livestock and the farming community has focussed our research effort to find solutions to disease control and this has often involved vaccination as a very effective method to prevent disease.
While many of us had to significantly change our working practices and quickly come to terms with remote working through video calls and laptops, farmers across the UK continued their essential work to produce food for the nation.
At the beginning of the first lockdown last year, people started to panic buy produce and many of the supermarkets ran out of stock. It made people start to think more about food supply chains and local food production. One of the positive things that came out of the lockdown was that many people reconnected with their local food outlets and some farmers started to do direct selling to customers within their local communities. The shop local effect was significant and farmers were directly supplying local butchers and wholesalers, with sales at times doubling in volume. This has helped to reconnect people with the food they eat and where it comes from and has also reminded them of the vital work that farmers do to produce high quality food.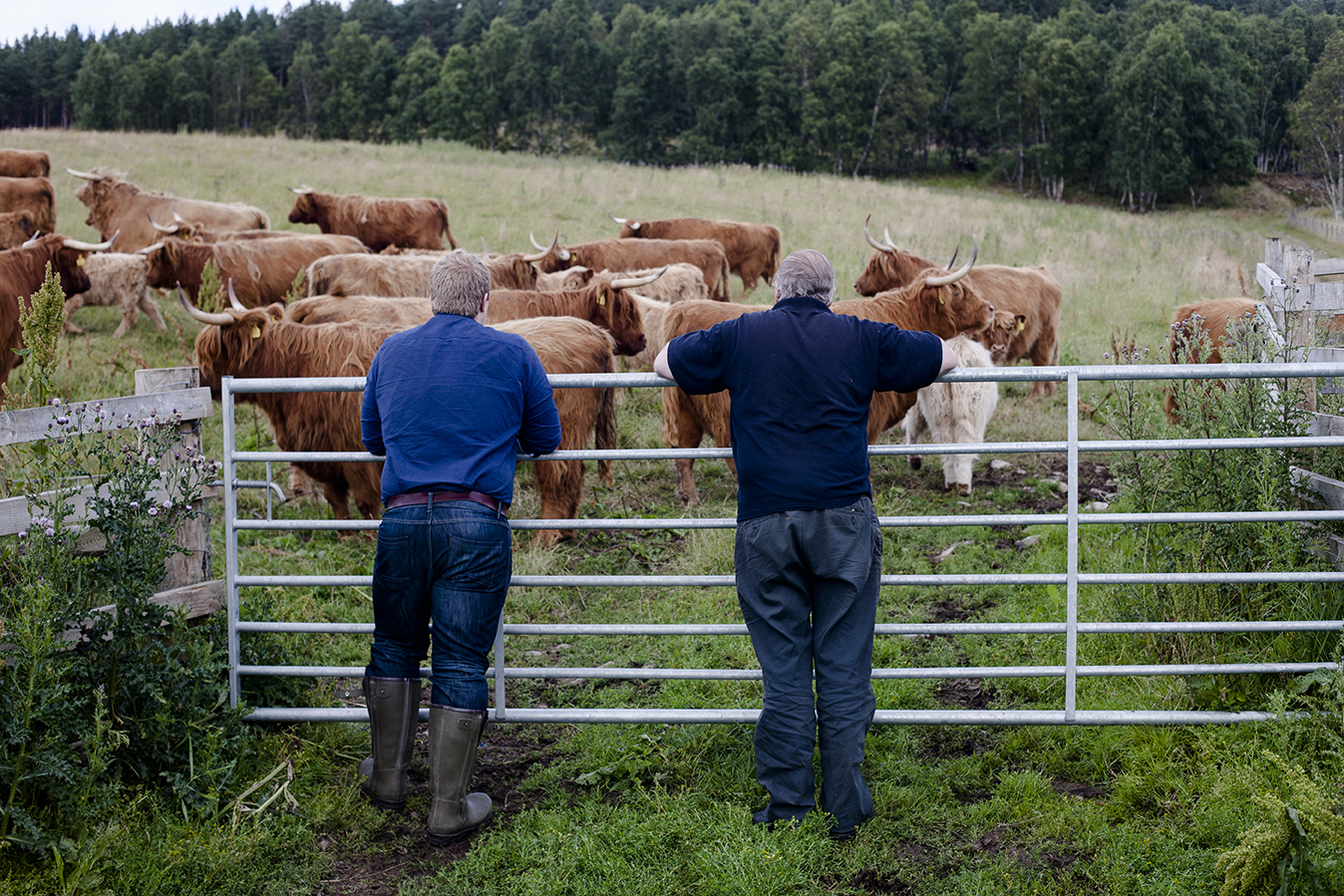 Photo credit: Kevin McCollum
During the Covid pandemic, farmers were doing essential work often in remote rural areas, and I spoke to some of the farmers we work with across the UK to ask how their lives had been affected during the pandemic.
As many farmers generally work for long hours on their own, this did not change much for them during Covid lockdown. Where they really felt the difference was when they were attending auction marts and sales where they would normally enjoy the social interactions with others. The farmers also really missed the agricultural and cultural events involving the summer shows and stock judging events, which for some, was the only time of the year they could take a few days to socialize and meet up with other farmers providing a much needed antidote to social isolation and a morale booster. Village life has also changed with pubs and tearooms closed for most of the pandemic and sadly quite a few of these will not be re-opening again. People did say they missed visits to the pubs which tend to be the hub of village life along with events in the village halls and churches.
Younger farmers tended to fare better using social media and felt less isolated compared to the older generation who preferred to do most of their socializing face to face and therefore did struggle more with isolation and loneliness. The other issue that many people in remote rural areas raised was poor broadband connectivity which made it difficult for people to work remotely or attend online meetings and connect with family and friends.
Rural living enabled easier access to the countryside and being closer to nature and many people commented on how important this was for their mental well-being and how they felt very fortunate compared with others living in flats in cities with limited access to green space. It is now well recognized the many health benefits, both physical and mental, from being close to nature and the Covid lockdown has really brought this into sharp focus for people, in particular those living in cities.
There were concerns raised over health care provision for people living in rural communities and this caused real anxiety in the early days of Covid as people did not really know what they were facing.
There is now a build-up of neglected emotional, mental and physical health issues in many rural communities which may be more difficult to sort than they would have been if investigated earlier. The usual medical services, including mental health provision, have mostly been conducted by telephone and there are many who find it difficult to talk about their feelings on the phone especially when you have to explain to the telephonist why you want a doctor's appointment, and in a small community the telephonist may be someone you know well.
There was also sensitivity to holidaymakers, in particular with more people doing staycations this year and a dramatic rise in visitor numbers to remote areas of UK putting pressure on local infrastructure and also increasing people's fears of spreading Covid to rural areas from the cities.  One of the farmers I spoke to who lives in Kent said that he had found it much easier to get around doing his farm work with less traffic and no congestion on the roads, so travelling about has been easier and quicker, such that he didn't have to start at silly hours of the night to avoid the traffic jams on the M25.
On the positive side, there have been many impressive examples of community spirit emerging in rural areas as volunteers delivered food and medicines to the most vulnerable housebound members of the community and further afield throughout lockdown. Langholm, in the Scottish borders,  produced it's very own 'Banksy' – an anonymous individual who painted stones and placed them, under cover of darkness, outside people's homes, shops and streets with heart-warming messages and illustrations.
Photo credit: Kevin McCollum
So as we look to a post-Covid future, what are the challenges for our farmers and those living in our rural communities?
Many of the older farmers may now be looking at the government exit strategy and Covid may have pushed them to look at leaving the industry earlier. However some of the farmers I spoke with feared that the few smaller farms will not be taken over by younger farmers but amalgamated into larger units. People have had time to stop and think during the Covid pandemic and we have an opportunity to change how we do things going forward. People, care about the countryside and about where their food comes from and care about the quality and safety of the food they buy and how it affects their health and wellbeing. People also shopped more locally during Covid and many farmers sold their produce directly to consumers helping to reconnect people with the food they eat.
There is increasing pressure on our land and natural resources and farmers will be moving towards more sustainable practices to help reduce the impact of agriculture on the environment and we all need to look at ways to improve biodiversity, protect our natural habitats and improve soil fertility going forward. I think the Covid pandemic has also reminded us of the fragility of our world and how important it is to protect our natural environment as it provides us with everything we need to make life possible, food, water, shelter, energy and re-creation. We also need to have better understanding and connectivity between our urban and rural communities to create a fairer and more sustainable future.
This article was authored by Professor Lee Innes MBE FRSE for the Public Debate and Participation working group.
 Lee Innes is Director of Communication at the Moredun Foundation which is one of the largest livestock charities in the UK that works to improve the health and welfare of livestock through research and education. The Moredun Foundation has over 10 000 farmer members across the UK and the charity governs the work of the world-renowned Moredun Research Institute. www.moredun.org