---
What does 'resilience' mean to young people?
Earlier in the year the Building National Resilience working group held a roundtable with young people across Scotland to discuss the meaning of resilience and the wider implications of the Covid-19 pandemic on their daily lives. As well as interviewing Lucy Fordyce (roundtable attendee and student at University of St Andrews), below is an exchange between Professor Chris Johnson (CJ) and Dr Ruchika Gajwani (RG), members of the working group, reflecting on why the roundtable was important, and what was learned.
CJ: As part of the Post-Covid-19 Futures Commission we were keen to learn more about the effects of the pandemic on young people – I really wanted to hear what they had been through – not just for personal reasons, in terms of understanding what my family are going through, but also because they represent the future of our nation. I was a bit intimidated because I am an engineer and not a social scientist, but through the Commission I was able to team up with Ruchika who provided the background I lacked.
RG: I have an interest in children and young people's wellbeing, both professionally as an academic clinical psychologist in Glasgow, and personally as a mother of young children growing up in Scotland. Being part of the Commission's Building National Resilience working group has given me the opportunity to work with colleagues outside of mental health and wellbeing, and enabled the exchange of ideas from passionate experts and advocates for a resilient Scotland in areas so vastly different (Business, Maths, Eco-system) to mine, and yet so exciting and humbling.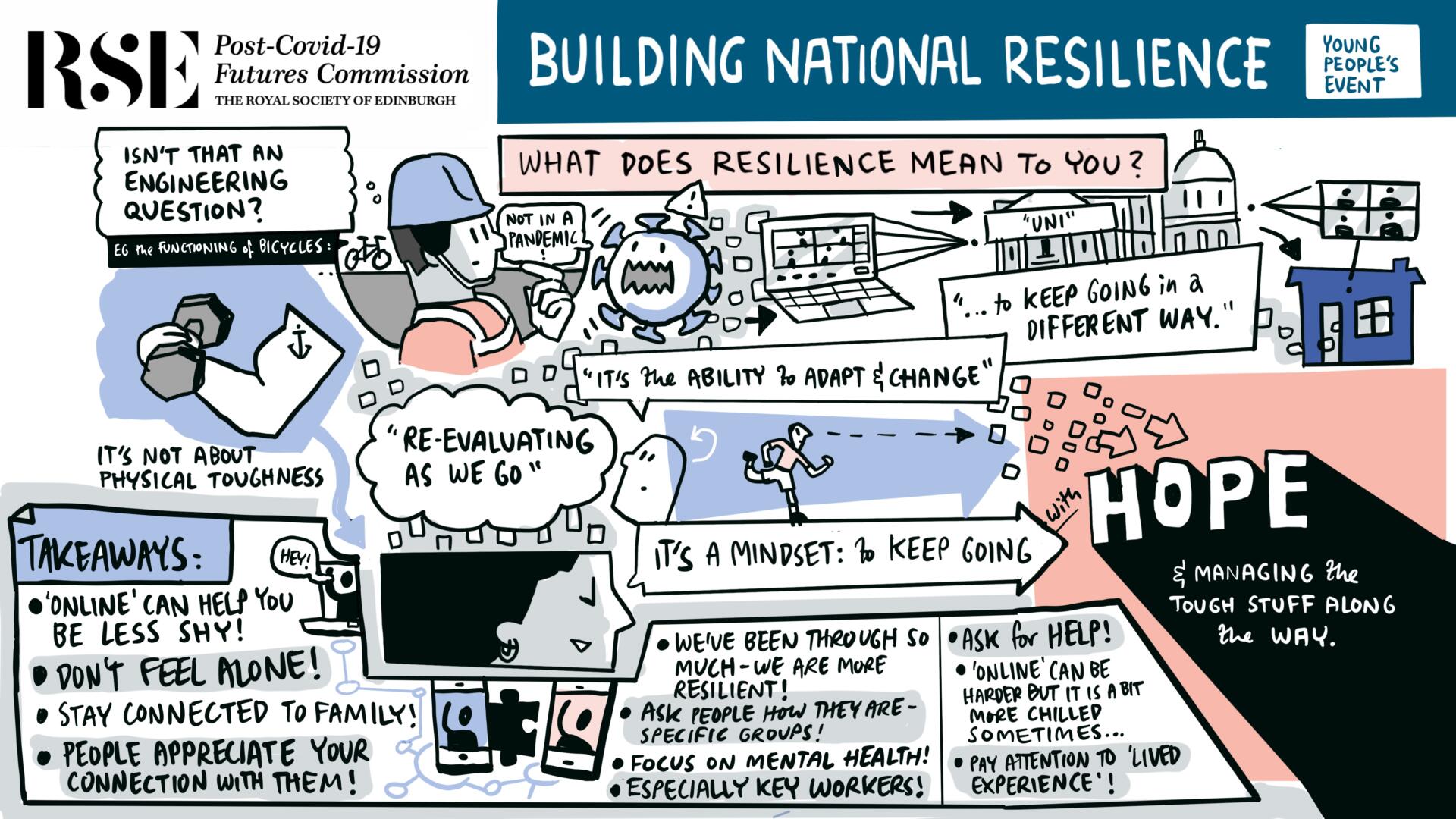 CJ: I moved to a new job in Belfast in the middle of the Covid crisis. One of my friends bought me a Where to Eat Out guide and it sat there day after day, taunting me because all of the cafes and restaurants were closed. I found myself developing coping mechanisms under lockdown in order to focus on the things I had achieved each day and each week rather than things which I hadn't got done.  
On the news, people talked about the impact all this was having on young people – my kids were back in Scotland and although we kept in touch through social media I got more and more concerned.
RG: I reflected in my clinical supervision about co-chairing the roundtable (a zoom square to be literal) with Chris, and his expertise in Engineering created a solid foundation which allowed us to be curious and creative in our questions. What was most heartening for me were the reflections of young people on gains and losses of the past year due to Covid, and their fears and hopes for the future. All of this was beautifully captured in the live illustrations by Pete!
CJ: The resilience roundtable was an amazing couple of hours, and talking to young people from diverse backgrounds across Scotland I was amazed at the challenges all of them had faced, especially the uncertainty and changes at an age where most people are planning careers, travel, and 'first' experiences. Covid had changed all of that. Some described how their mental and physical health had been affected, others were more affected by family circumstances or by the confines of the areas where they were living – no places to walk safely at certain times of the day.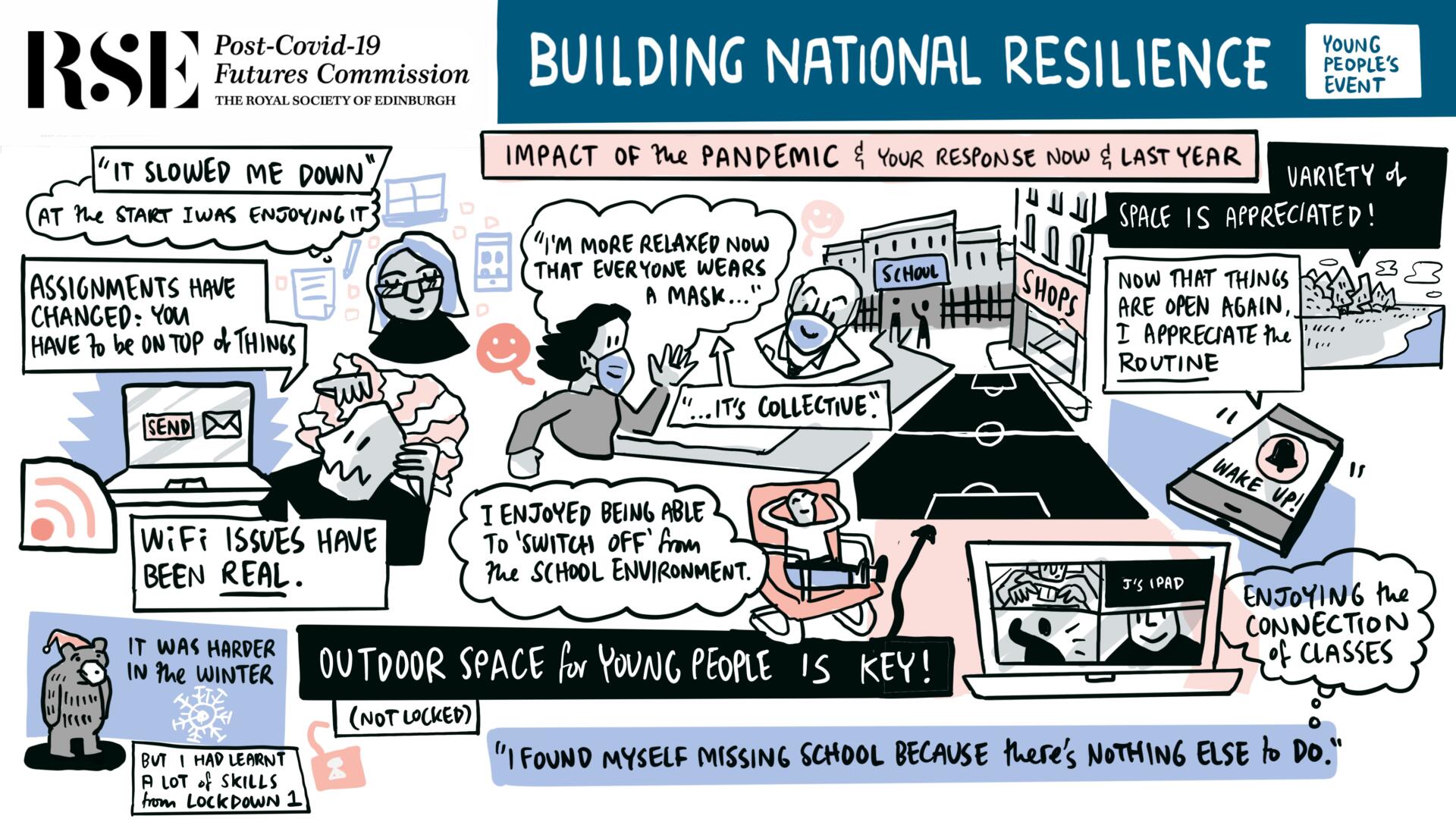 CJ: At the end of it I got a sense of their resilience and optimism that we will get through this – but also the feeling that we need to learn lessons moving forward from Covid. For example, there is a need to create safe urban environments that are open to young people and to provide clear communication to those who are most affected when schools are closed or exams are cancelled. I share their optimism but I am also aware that their resilience and their patience are fragile.  We need to listen to what young people are telling us and act to apply those lessons that both during a pandemic and as we gradually move past it.
RG: I echo Chris's thoughts – we need to create and nurture outdoor space for ALL children and young people. We had known of the shortcomings before Covid. In the workshop, young people told us how Covid-19 has exacerbated inequality for those with disabilities, for University students away from families, for children who don't have access to open green space, for those with a gap in understanding of digital health… we need to work collectively.
… And all of this has been coordinated with great thought and rigour by Nazia, Paul and William. An example of inter-disciplinary collaboration, dialogue, and team-work in action.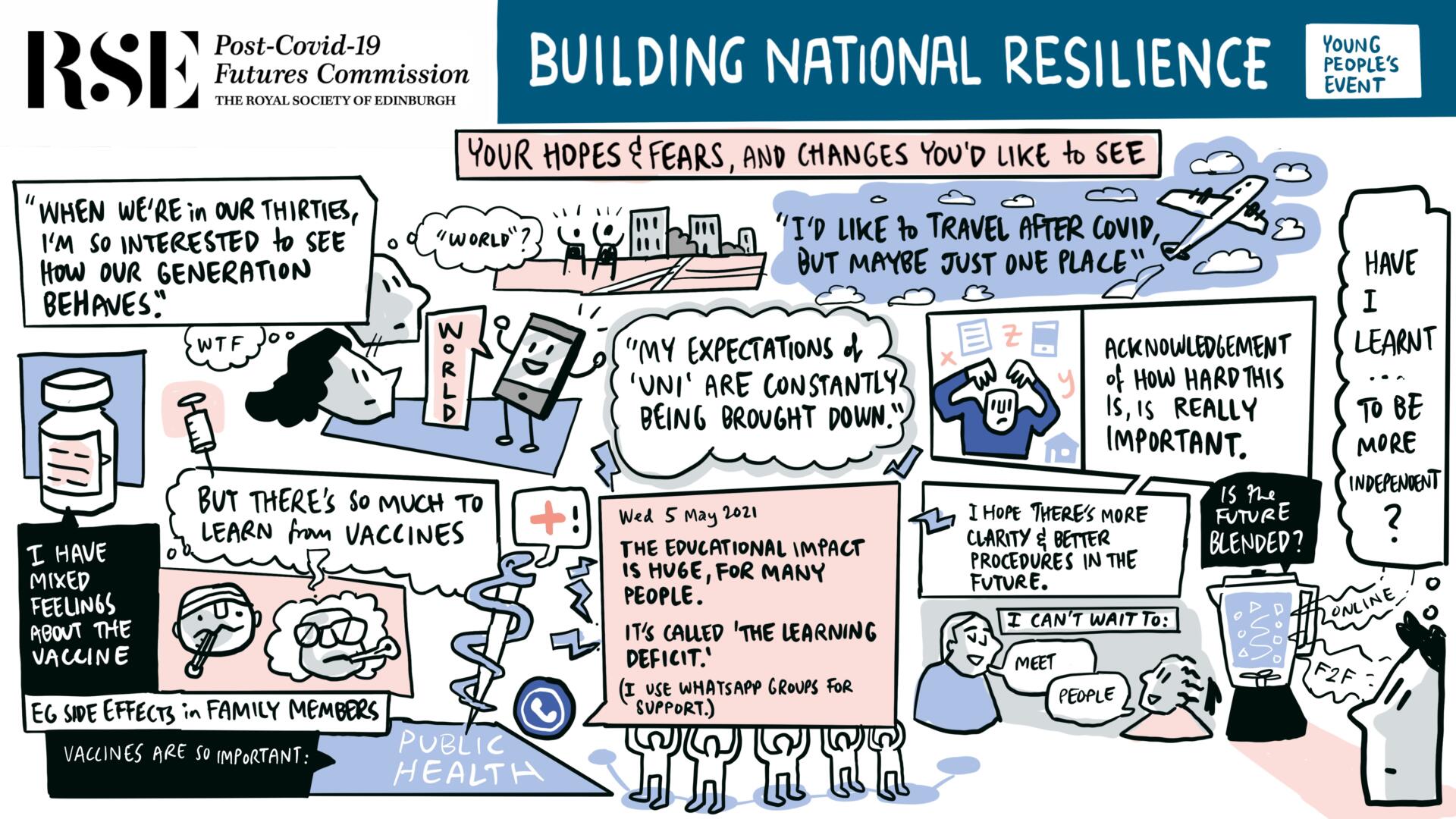 ---
In conversation with:
Dr Ruchika Gajwani, Clinical Psychology Research Fellow (Mental Health & Wellbeing), University of Glasgow
Ruchika Gajwani is an academic clinical psychologist at the University of Glasgow and NHS Greater Glasgow and Clyde. Since moving to Scotland and joining the Adverse Childhood Experiences (ACE) Clinical and Research Centre in 2014, Ruchika has had the opportunity to spend the last seven years engaging with local services, experienced service providers and young people to research the gaps in young people's mental health provision. Engaging substantially in the model of early intervention, Ruchika and the ACEs centre have developed a clinical research programme to understand what are the developmental pathways to youth mental health (both in relation to at-risk and resilience). Ruchika was awarded the prestigious early career research fellowship from the MQ – a charity that endeavours for equality and advancement of mental health research.
Professor Chris Johnson FRSE FRAeS FBCS, Pro Vice Chancellor, Engineering and Physical Science, Queen's University Belfast
Chris Johnson was Head of Computing Science at the University of Glasgow for six years before moving to lead the Faculty of Engineering and Physical Sciences at Queen's University, Belfast in 2020.   His research focuses on the development of safety-critical systems.  He has held Fellowships from NASA and the US Air Force and worked with the teams reducing risks from terrorist attacks after 9/11 and 7/7.  In 2021, he was appointed as one of the fifteen expert witnesses retained by the public inquiry into the Grenfell Tower fire, where he is responsible for analysing the communications and data issues that exacerbated the rescue efforts.
---
Live Illustration
The illustrations featured were produced by Live Illustration, a virtual graphic recording agency.